In the past week, Mike Brown and I had been discussing some places to go visit while on this trip and one of those was the Green Bank Radio Telescope. Mike felt that our first day out would be a good time to do visit it and on the way in we could stop by the Greenbrier for a banana split. I have never turned down ice cream before, so why start now…
Friday morning it was surprisingly warmer than I thought it would. So I left my long sleeve shirt in my tail bag as we headed off towards Green Bank with a planned stop at the Cass Railroad for lunch.
The group for this ride consisted of Mike and his wife, Kevin, Rick and his wife on a Gold Wing, John and Rick with the FJR and me. Now like I said before it was warm at the hotel, however as we started working our way up the mountain it quickly became much cooler, to the point where I was starting to get the shakes. Thankfully, we were approaching the New River Gorge Bridge so we pulled off there to layer up and snap a few shots while we were there. Due to time constraints we didn't stay long and got back on the road headed towards Cass.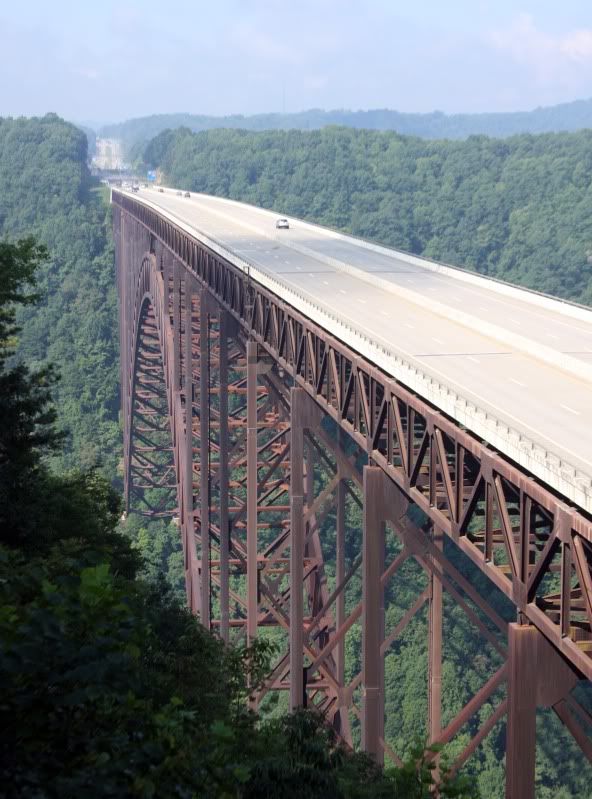 For the life of me I can't remember how we got there, but some how we did through a series of winding West Virginia back roads that were a pleasure to be riding on despite the gravel in most all of the right hand corners. In some areas the DOT had put down rock on the shoulders which semi's and other large vehicles pulled up onto the road. It didn't but a corner or two to realize that this was going to be a constant issue.
A couple hours later we ended up at the Cass Railroad to grab some lunch. In this small area there were several shops a nice diner and a train ride that would take you around the area. This place was a play ground for the cameras so we spent some time and snapped a few shots before heading in for lunch.
The food was good but the service was a bit slow. But with that crowd slow service really isn't a problem. Mike is never short a story or two… and knows how to embarrass us all. He had the waitress laughing so hard she ran into a pole behind the table.
It took us about an hour to finish lunch and we worked our way back out to the bikes. On the way out we heard the train whistle blowing in the distance. We stood around waiting for it to show up and as it rounded the bend it greeted us with its steam whistle.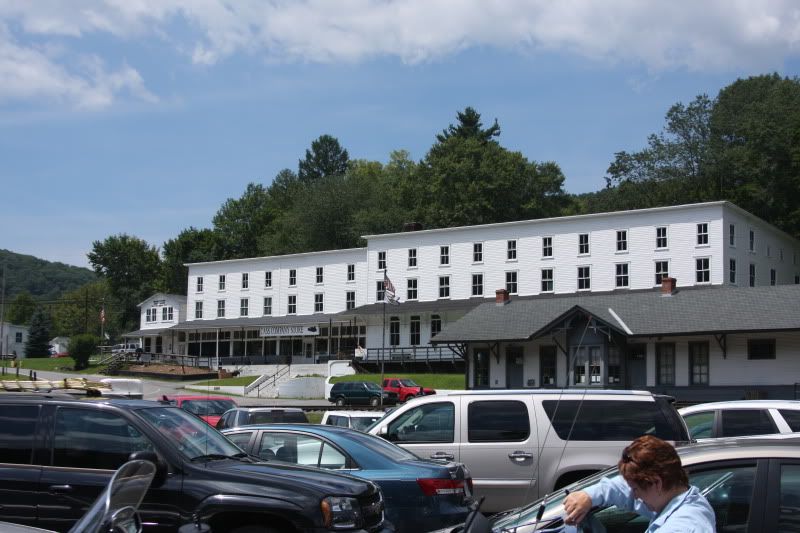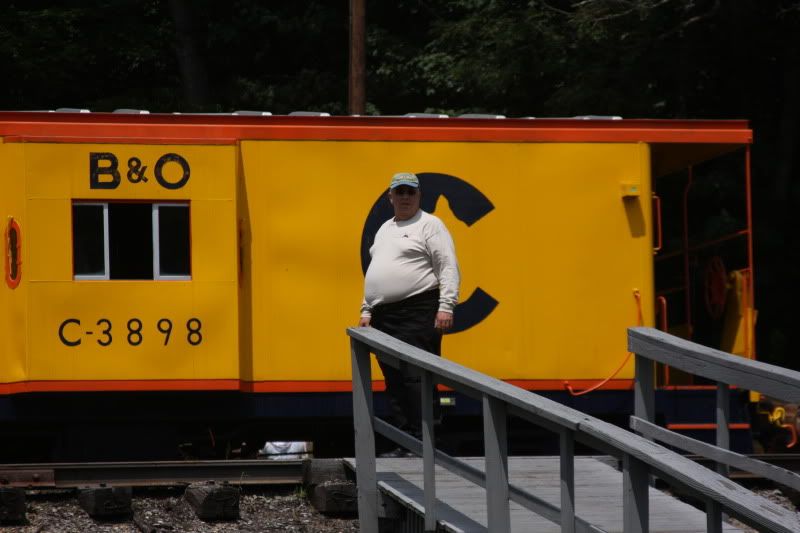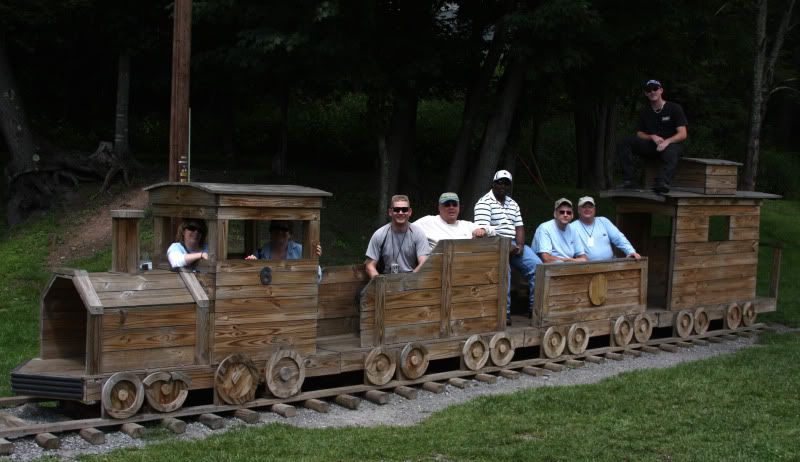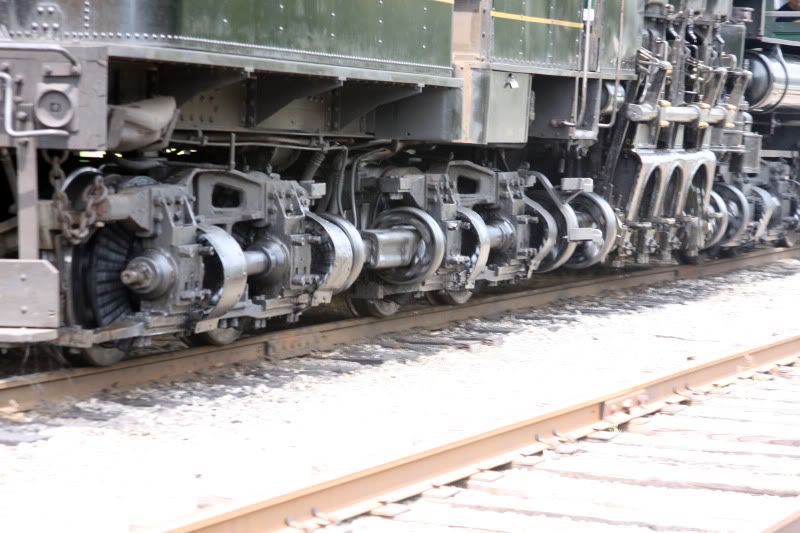 While watching the trail I noticed a good spot to pull the bike up on the tracks for a couple quick shots…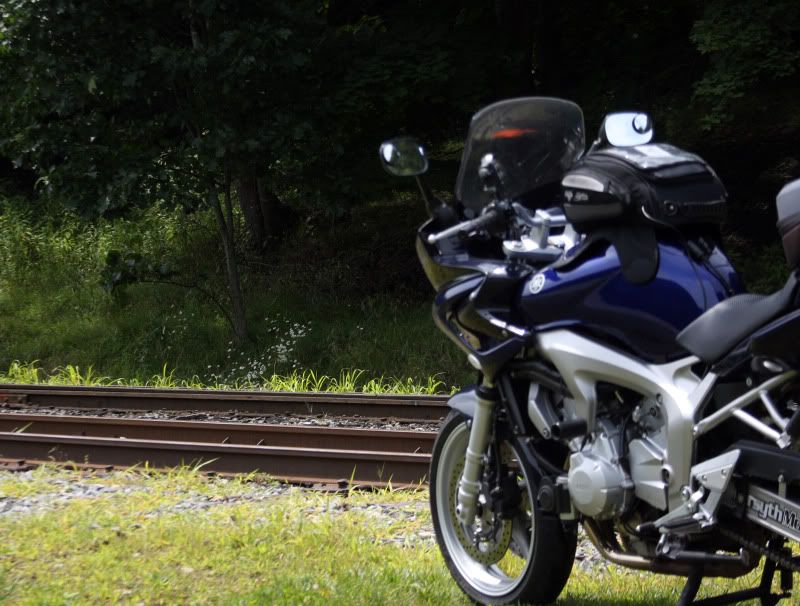 On the way from Cass to Green Bank a song came on my iPod that I hadn't heard in a long time. "A Hymn for the Lost and Living" by Eric Ewazen. This piece was written after the 9-11 attacks as a tribute to those that perished and a promise to carry on. Our high school was one of the first schools in NC to play this after it was published and I had forgotten how emotional this piece was. If you would like to listen to this you can below. I was a low brass guy, so the 5 minute mark is what got to me that and I can still remember hearing Drew and Will, my best friends who played trumpet, playing this piece and seeing their emotions as well.

http://www.imeem.com/cornydog/music/A2GamV9v/eric-ewazen-a-hymn-for-the-lost-and-the-living/
I know this has nothing to do with the ride and I know it is bringing the mood down, but for some reason this song just really got to me that afternoon. I think I listened to it like 3 times back to back. Something about that country side at a slow pace and that song just went hand in hand.

But anyway, it was a short ride over to Green Bank and once there we went inside and looked around the exhibit area and snagged a few pictures from outside. Rick on the wing needed to take a break to get his blood sugar up, so Rick (FJR) and I went to a few other exhibits before heading back on our way to get some of the world's best ice cream at the Greenbrier.
Kevin and I stopped on the out of Green Bank to get a few more shots of the satellite from a distance. I would really like to return there at some point and take the guided tour around that massive thing! The dish alone apparently spans over 2 acres!

It was a nice country ride over to the Greenbrier where I was in for some more culture shock. We pulled up to this gated area and had to park in lot across the street and wait for a shuttle to pick us up and take us to the hotel. Why you ask? Because the motorcycles bother the polo horses… On the way up Mike begins story telling and fills me in on what his place really is. (I had never heard of it till that day)
When we walk into this place I immediately felt way out of place, apparently Kevin did, too. Let me set the scene for you….
Nice plush dark green carpet, silk drapes with chords of all colors everywhere. The staff was wearing the green suit coats while the female guests were wearing nice Lilly dresses and heels and the guys were sporting the polo's with khaki shorts and Sperries. Then in walks a group of 8 people, 6 men and 2 women. Most wearing ball caps and wearing Kevlar and Cordura based pants, motorcycle T-shirts and heavy boots. We stuck out like a sore thumb to say the least…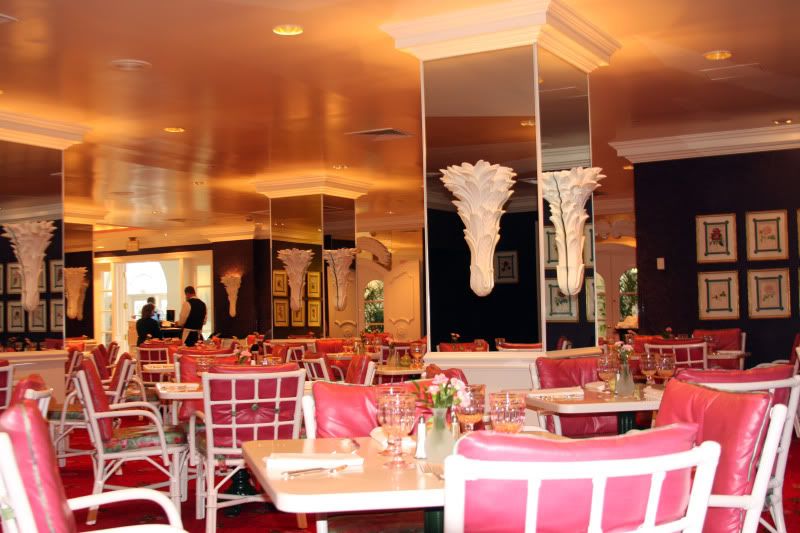 We end up at the ice cream parlor in the back of the mall down stairs; yes there is a freaking mall in the bottom of this place! The wait staff was extremely friendly and they got a kick out of our special ice cream trip. Most of us all ordered the banana split, John was the only smart one, he got a milk shake. The split was huge…
Our shuttle driver filled us in on the prices for that hotel as we were leaving. For a basic room at that place it costs around 400.00 per person, per night! Like I said, I was way out of place!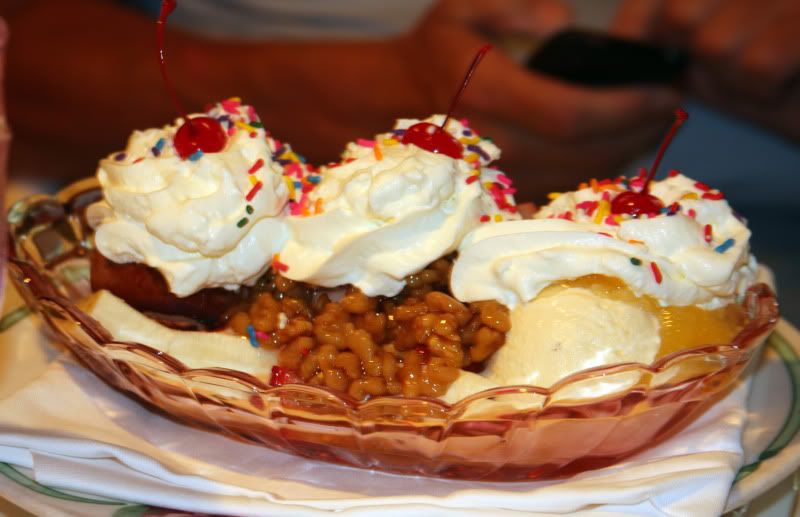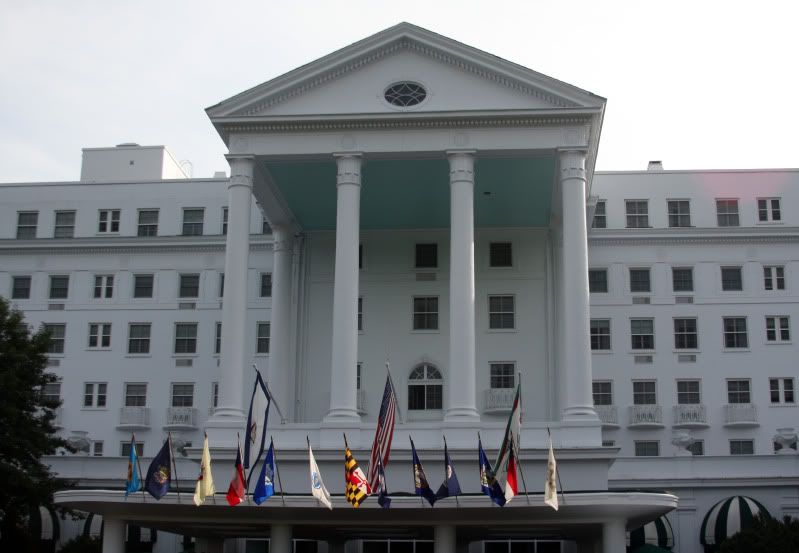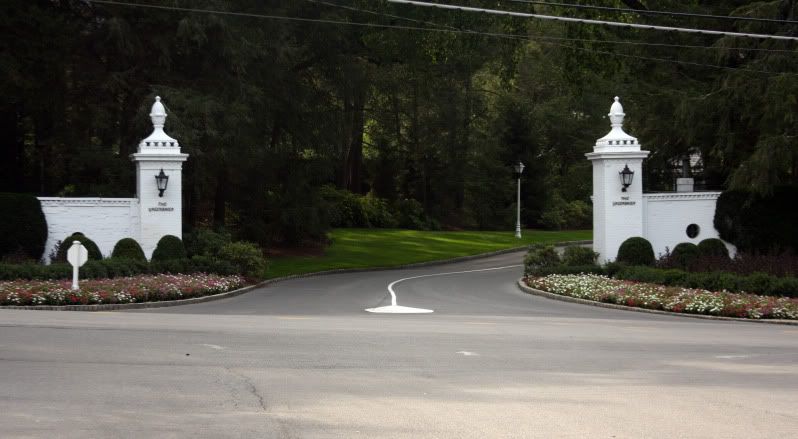 Back on the bikes we were now heading to eat dinner with the crowd at a rib shack. (Are you catching a pattern here?) We took Hwy 60 back towards Beckley as the restaurant was located next to the New River Gorge Bridge. After all that ice cream and sugary goodness one of two things was going to happen. I was going to end up on a sugar rush like no bodies business or I was going to crash (not the bike) and be in a sugar coma. Those are always the best naps…

Well fortunately I was able to stay awake. Hwy 60 turned into a three lane mountain road with two of the lanes going my direction! I got on the radio and told Mike that I would meet him at the top, I'm was coming around. As I went by, John and Kevin both jumped out and tagged along for a spirited run. I looked in the mirror as I came up to the first tight corner which was going left to see John working his way up towards me. A quick look over the shoulder to judge his position, kicked it down two gears, a bit of throttle and tucked her in dragging the foot peg all the way through. I didn't look back again till I was at the top. Ah, what a rush! That section of Hwy 60 was a hoot and to my surprise Kevin, who was on a Gold Wing wasn't too far behind me and John only a couple corners back from him! I was impressed.
We ended making it to the dinner right as everyone was leaving, due to our other eating stops, lol. But that was fine by me. We talked a bit with everyone as they were leaving while we waited on our tables to be available. I got to meet the "Mama Bear" for the first time (Grizz's wife) and got to see the new scoot as well. Once inside I ordered my first set of ribs, yes my first. 22 years old, born and raised in NC and I was eating ribs for the first time. They were very good, along with the baked beans and potatoes. Keep in mind we just got done eating that massive banana split about an hour or so ago.
Afterward it was a nice late evening cruise back to the hotel. The communal cooler came back out and the B.S.ing began. After all that food, I slept good that night!